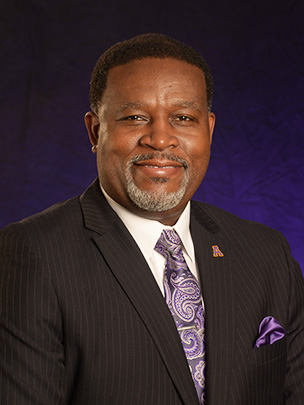 Dr. Tracy Cook was appointed by the Mississippi Institutions of Higher Learning Board of Trustees as the Interim President of Alcorn State University, effective July 8, 2023.
He previously served as Vice President for Student Affairs and Enrollment Management at Alcorn State University.
His responsibilities included directing and supervising the units and directors within the Office of Student Affairs and Enrollment Management, including Admissions and Recruiting, Career Services, and Residence Life. In this role, he developed vital collaborative relationships with campus administrative areas, faculty, and campus and community leaders to plan and implement strategic initiatives.
Cook has more than 25 years of administrative experience in education.
He returned to Alcorn in 2015 as Chief of Staff. In 2018, he was appointed interim Vice President for Student Affairs. After successfully serving in the interim role, he was promoted to Vice President for Student Affairs and Enrollment Management in 2019.
Before joining Alcorn, Cook served in various roles, including superintendent, assistant superintendent, principal, assistant principal, athletic director, and teacher in the Jefferson and Claiborne County School Districts.
He is a committed administrator with significant experience in financial management, project management, negotiation and conflict resolution, data analysis, and professional development.
While employed at the Jefferson County School District, Cook successfully managed a budget of more than $50 million and secured an additional $2 million to support student outcomes.
Cook's attention to detail and general aptitude have allowed him to serve as a member of several professional organizations, namely, the Mississippi Association of School Superintendents Board of Directors, Mississippi Alliance of Black School Educators Board of Directors, Mississippi Association of School Administrators, Mississippi School Board Association — Board of Directors, and AP&C Trusts.
In addition, he served on the Southern Regional Educational Service-Agency Consortium Board of Directors, Program of Research & Evaluation for Public Schools Advisory Committee, Parents' Campaign Better Schools-Brighter Future, Southwest Junior High Athletic Conference — Secretary; Mississippi High School Activities Association's Legislative and Executive Board of Directors, and the Copiah Lincoln Junior College Board of Trustees. Cook also co-founded the Southwest Mississippi Educator Conference.
He was recognized as one of Alcorn's 40 Under 40 honorees in 2012 and ranked among the University's Top 50 Greatest Football Athletes (2014). In 2015, Cook was inducted into the Alcorn Sports Hall of Fame. Most recently, in 2023, he received the Southwestern Athletic Conference Alumni Association's Lifetime Achievement Award.
A native of Fayette, Mississippi, he graduated from Jefferson County High School and embarked upon a rewarding athletic and scholastic journey at Alcorn. A scholar-athlete, Cook received a bachelor's degree in agricultural economics in 1994, and master's degree in agronomy in 1996, and educational administration and supervision in 1998. Cook went on to earn his specialist and doctoral degrees from William Carey University.
He is married to the former Dr. Crystal N. Smith, and they have two children, Kennedy and Casey.